Smart Reporting for Public Space
Working together on a clean & safe environment
Easy reporting for citizens, real-time insight into reports for administrators. Thanks to the use of data, correct routing and integration with (case) systems, Smart Reporting offers convenience for citizens and municipalities.
Method
Smart Reporting for the Public Space has been successfully developed by Civity together with municipalities for years. That is why Smart Reporting is fully in line with the process and working methods of local authorities and practitioners.
The solution streamlines and routes citizen reports in a smart way. This ensures efficient handling and satisfied users.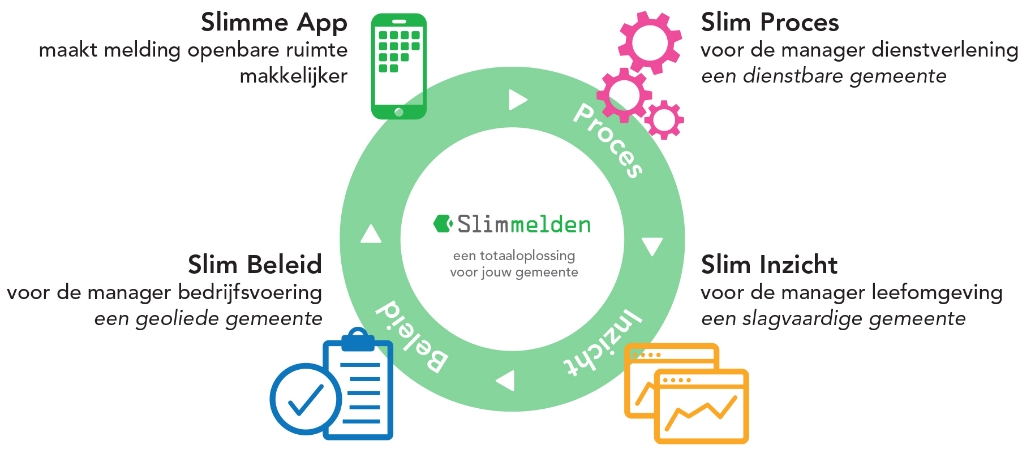 Smart Reporting explained
Smart Reporting
Making reports is easy via the web app or mobile app. Simply by clicking on an object (such as a waste bin or a lamppost), or choosing a free spot on the map. Leave details to be kept informed about the status. Report anonymously? That is of course also possible
The reporter immediately receives a case number, thanks to the link with the municipal case system. This offers transparency for citizens and convenience for employees of the Customer Contact Center. If desired, Smart Reporting can also run as a stand-alone application outside the case system of a municipality.
Smart Managing
With the tools of Smart Reporting we support the municipality with efficient and optimal management of reports in Public Space.
The mobile handling module makes it possible for field staff and 3rd parties to handle reports in the field, filtering by report category, case status and more
All information is synchronized with the case system, so that data is always and everywhere up-to-date. Report statistics are collected and clearly displayed in a dashboard.
Het is nu makkelijk om schades en onregelmatigheden eenduidig te registreren en te routeren. Wij kunnen met Slim Melden nu meldingen sneller en correct afhandelen.
Dankzij Slim Melden kunnen onze inwoners eenvoudig en snel een melding openbare ruimte doorgeven en kunnen ze ook zien welke meldingen er al zijn doorgeven aan de gemeente.
Wij zien dat onze inwoners dankzij Slim Melden een voorval bij ons aankaarten. Door onze snelle afhandeling raken ze meer en meer betrokken bij hun eigen omgeving en gemeente.
Transparancy and Open Data
Transparency and sharing data are becoming increasingly important, also for municipalities and provinces. Of course, Smart Reporting supports this.
The reports made via Smart Reports can also be made available again as an open dataset. Easy does it!
.
Smart Reporting: Easy reporting and managing
For & with municipalities
Smart Reporting has been developed for years in close collaboration with municipalities. For example, the solution is based on frequently occurring requirements and wishes.
Easy reporting for everybody
One report system via the web app or the native app, for citizens and Customer Care.
Easy handling
Field staff or external parties can easily handle reports from location. Get grip on lead times.
Fully customizable
Complete freedom to choose datasets, notification categories and help and thank you texts. Of course we are happy to advise you on this.
Overview & Insight
The Smart Report dashboard presents, among other things, the most common reports and the time until the report is resolved.
Stimulates participation and a pleasant living environment
Direct feedback about the status and the possibility to vote makes citizens more involved in their living environment.
Proud of our customers